This is the E_D_FF D (Data latch) bistable function block type defined in Annex A of IEC 61499-1. Its behavior is defined by the ECC and algorithm shown below.

ALGORITHM LATCH IN ST: Q:=D; END_ALGORITHM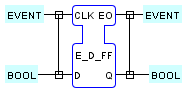 Test Procedure
Open and run events/E_D_FF in the FBDK.
Enter data for the D input variable.
Exercise the FB by clicking on the CLK event input.