This is the E_SR event-driven bistable function block type defined in Annex A of IEC 61499-1. Its operation is modeled by the ECC and algorithms shown below.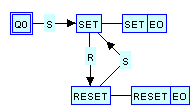 ALGORITHM SET IN ST: Q:=TRUE; END_ALGORITHM
ALGORITHM RESET IN ST: Q:=FALSE; END_ALGORITHM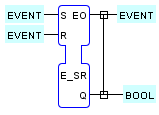 Test Procedure
Open and run events/E_SR in the FBDK.
Exercise the FB by clicking on the event inputs.